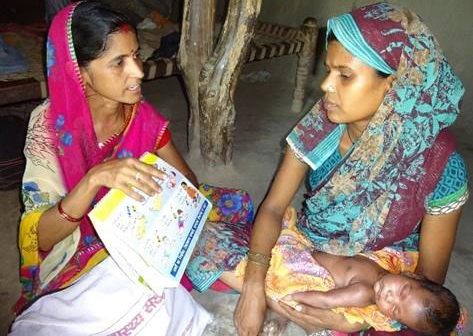 Hear from Neetu, How Save A Mother Worker, Sarita helped her to save her life.
I am Neetu, ,I am 26 years old from the village Chakesar, Block Shahganj, District Jaunpur in U.P. I got married in 2007 at the young age of 16. I have three children. I gave birth to my first child in 2008, second in 2014 and third in 2016.

My life was miserable, as I got married at a tender age of 16 and had my first child just a year after marriage. By 25 years of age, I had two kids to take care of and was bearing my third one, I was struggling with poor health and tremendous load of household chores.

As I was grappling with the situation one day by luck Save a Mother Field Facilitator (FF) and Swasthya Sakhi visited me at my home.They asked me if I had done my antenatal check-up . I replied No, and they counselled me about antenatal care and its importance.

A pregnant woman should get minimum 4 antenatal check-ups (urine test, blood test, blood pressure test, weight check, abdominal test) during the pregnancy and should consume 100 iron folic acid tablets and get two T.T vaccinations. Swasthya Sakhi motivated me to attend immunization session held at the primary school in our village and also to get my complete antenatal check-up done free of cost at community health center.

After the antenatal check-up I was informed that I was anemic. Save A Mother FF, Sarita requested Auxiliary Nurse Midwife to provide me 200 Iron folic acid tablets for consumption during my pregnancy (two times a day).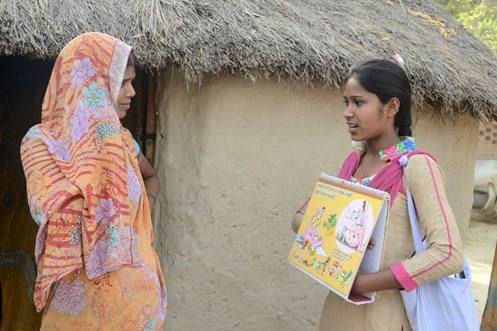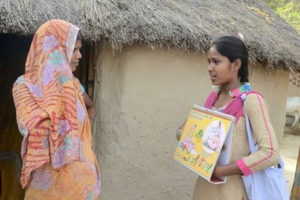 Swasthiya Sakhi suggested me to take 'Chatoranga Bhojan' (A meal that contains green and red vegetables, yellow pulses & white food like milk & milk products like curd, paneer), as what you eat during pregnancy is important for your health, as well as the health of your baby.
FF and Swasthiya Sakhi regularly motivated me to follow healthy practices during pregnancy.
Had it not been for them I would have never understood the value of safe pregnancy practices. My health significantly improved after taking IFA tablets and nutritional advice. I went for institutional delivery later, I later realized had I not taken timely intervention and opted for institutional delivery, my child's life and mine would have been in grave danger. They saved our lives. I was also educated about Family planning practices and birth spacing. I wish I had known all this earlier, I could have also timely planned my family better, nonetheless I am very happy and thankful that i am healthy now and so is my child.